Veterinary Doctors
Dr. Kaaren Howe, DVM, MBA, President/CEO
I have worked in Minnetonka veterinary clinics since ninth grade. I received my DVM from the University Of Minnesota College Of Veterinary Medicine in 1990 and my MBA in 2009 from the University of Minnesota Carlson School of Management. I have been the primary care provider and Medical Director at Minnetonka Animal Hospital since 1994. Dr. Leilani and I have owned the practice since 1998. I am committed to the values of the American Animal Hospital Association – providing excellence in companion animal care. I love taking care of dogs and cats from the time they are puppies and kittens until their senior most years. It has been exciting seeing more rabbits and other small mammal patients as they become important family members.
Outside of work, I enjoy hiking in the woods, photography, swimming, participating in a local CSA, and native landscaping to attract butterflies and other pollinators. It has been rewarding to provide a feeding ground and have dozens of monarchs in our clinic gardens. The interaction between the butterflies themselves and competition with bees is fascinating to me.
Dr. Leilani Hotaling, DVM, CVA, CVC, CCRP
I own Minnetonka Animal Hospital along with Dr. Kaaren. I have returned on a part time basis after an extended sabbatical. I received my DVM from the University Of Minnesota in 1991. I am certified by the International Veterinary Acupuncture Society (1999), Veterinary Chiropractic, (2000) and in Canine Rehabilitation Therapy (2006).
I enjoy hiking, biking, and long distance running. I train with my dog Huck, and both of us wish he could participate in more races with me. I participate in numerous 5k runs, trail races as long as a 50k ultra marathon, and am a proud finisher of several marathons, including Grandma's marathon (2011, 2016 & 2018). During my sabbatical, I delved further into my interest and studies with bats and white-nose disease. I also remodeled a 1950s era house.
Veterinary Technicians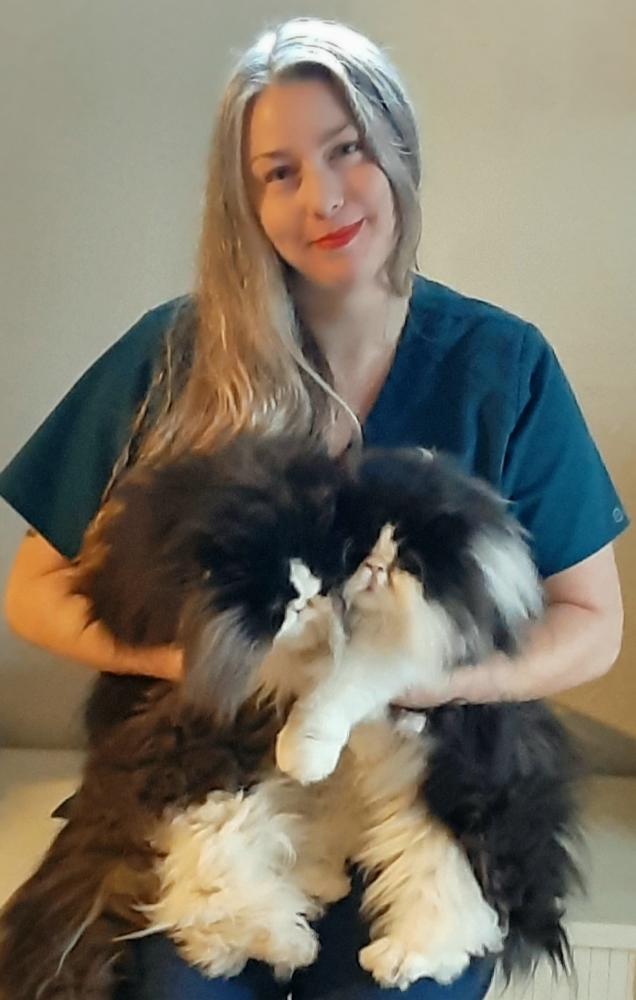 Angie F., Lead Certified Veterinary Technician
I have been a CVT in the Twin Cities metro area for over 16 years. I have always had a passion for caring for animals and I still love what I do each and every day. I came to MAH in August of 2019 and am so happy to be part of such a caring team. I have special interest and training in veterinary dentistry and behavior. I am a lifelong resident of Minnesota and enjoy spending my free time exploring it with my husband. I also enjoy camping, reading, and gardening. We have 3 cats-2 rescued Persians Georgie and Fifi, and 1 old man, Misery. I look forward to continuing to learn new things each day, and to do my part to support such a dedicated team of professionals.
Kara S., Certified Veterinary Technician
I graduated from NDSU in 2017 with a B.S. in Veterinary Technology and minors in Large Animal Vet Tech and Range Science. I started at Minnetonka Animal Hospital in September of 2017 and became a Certified Veterinary Technician in November of 2017. I have one pet, a tuxedo cat named Ritz, who keeps me on my toes. In my free time, I travel the country as a professional wrestler.
Todd N., Certified Veterinary Technician
I graduated in May 2018 from Ridgewater College with an AAS degree in Veterinary Technology and Liberal Arts. I originally came to Minnetonka Animal Hospital as an intern shortly after graduating and was offered a job as a full time technician toward the end of my internship. Then, after many months of studying, I became a CVT after passing my board exam in November 2018.
I have a standard capped rat named Jefferson (Jeff) and 2 domestic medium hair cats named Stelle and Elmer. In my spare time, I enjoy biking, kayaking, fishing, cooking, art, gaming, and watching movies.
Ann N., CVT, CCRA, Client Service Specialist
I have been working for Minnetonka Animal Hospital since 2005.
I live with Marion, a rescued Cairn Terrier who lost her vision when she was 7 years old. When I'm not working or hiding treats for Marion to find with her nose, I like reading mysteries, watching science fiction, studying new topics, writing, cooking, or working in my yard where neighborhood cats frequently come by to visit. If I find a spider in the clinic I will gently take it outside, but this compassion does not extend to mosquitos or ticks. My favorite part of the job is finding solutions to clients' problems. My least favorite - mystery computer errors.
Laurie N., Veterinary Technician
I have been a veterinary technician for a long time, I have worked on most domesticated animals from cows to hamsters. I have 3 daughters and 1 grandson. I have 2 dogs and 1 cat all inherited from my children. My girls also have horses and pygmy goats that live at their father's house. I enjoy the outdoors, hunting, fishing, skiing, hiking, and of course playing with the animals.
McKenna L., Veterinary Assistant
I have a B.S. in Animal Science, Pre-Veterinary Medicine, from the University of Minnesota. My future plans are to apply to Veterinary Medical School, but in the meantime I am gaining loads of experience and knowledge by working here at Minnetonka Animal Hospital.
My free time is spent in animal rescue. I currently am a vetting coordinator and intake coordinator for Ruff Start Rescue where I oversee the veterinary care of our foster animals. I also spend a lot of time in different Minnesota impounds and animal controls temperament testing dogs to try and get them placed in rescue before their euthanasia dates. Rescue has ignited my love for "Pit Bull" type dogs and I currently have two of my own, Maggie (4 years) and Haula (8 years) along with a cat I acquired from Minnetonka Animal Hospital named Pig!
Staff
Jane B., Practice Manager
I have returned to MN, having attended high school in Wayzata. It is great to be back near my family and some dear friends. With stops along the way in NY, IL, CO, MA, WY, ID, OR, WI, and MT, I've covered the contiguous time zones - a few times. I have two boys (19 & 20) and since I am facing an empty-nest, I've stepped back into the workforce. I have a B.S. in Communications from Northwestern University, with an emphasis in Organizational and Interpersonal Communication Studies. My past job experiences are as varied as the places I have lived with work in public television, sailing, micro-breweries, editing, libraries, and several non-profits.
I grew up a cat person but am now completely enamored of my second dog, Lily, a 7 year old Bernese. Animals have always been a part of my life and I am enjoying welcoming and assisting our clients, furry and otherwise, here at MAH.
Laura F., Business Manager, Accounts Manager
I have been working at MAH part-time for more than 7 years. I have two kids and three cats. I come from a chemistry background and own a plumbing and heating company. I am enjoying learning about the ins and outs of the veterinary industry. I enjoy geocaching, travel, and reading.